"I just received my absolutely stunning necklace from @WestCorkCastingStudio 'forget me not' collection. Its my two boys fingerprints set in a silver star and heart! LOVE IT
"  Emerald Green, September 2020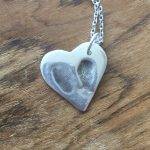 "Having had our hands cast by Maura last Christmas, myself and my husband engaged her again recently to imprint a fingerprint on a little silver heart. As promised, it arrived in the post beautifully made and presented.  The whole process is brilliant as it is done through the post, and given the covid times we currently live in, it is a fantastic way of getting a beautiful bespoke personal piece of jewelery without any risk.
I cannot praise Maura highly enough for her skill and attention to detail.  These silver pendants will make wonderful Christmas presents for anyone looking for a unique personal gift.
With many thanks, Sandra and Dave. " August 2020
"Recently Maura did my Grandsons fingerprint for me on a beautiful silver heart. It was so precious and meant the world to me as in these difficult times I wasn't able to give him a cuddle in person. I absolutely love my little keepsake and would highly recommend. I have had some castings done by Maura previously and she is extremely professional and goes above and beyond for her customers. A fabulous talented artist. If you are looking for somthing special check out her beautiful fingerprint impressions set in silver"  Susan Cowhig June 2020
*******
"Maura was a joy to work with and the art work she produced was stunning. She absolutely captured her subject – physically energetically, and with delicious delicacy. I can't recommend her highly enough"  Ella, March 2020
*******
"We met Maura at the Ballymaloe Christmas Craft Fair in December where we were very taken with her handcast sculptures.  My husband suggested that it would be a really nice idea to have a cast made of our own hands, as something concrete and comforting for the other to have should anything happen to either one of us. So we made an appointment promptly to arrange it as these things when put on the long finger tend to never get done.
We took a trip to West Cork in December to Maura's home and workshop and the whole experience was amazing. Maura helped us to choose a pose for the hands based on our idea of what we wanted. She photographed it before casting to give us an idea of what it would look like from different angles, and then she worked her magic.
Our handcast was ready in a couple of weeks and we are thrilled with the end result. It is exactly what we wanted. It now stands where we can see it, pick it up and hold it, and explore the cracks and crevices of our very 'lives in' hands.
Maura is a wonderful, friendly person and skilled at her craft.  We know that her fantastic casting of our hands will be around, and enjoyed, for a long time to come.
With many thanks, Sandra and Dave" January 2020
*******
"I recently had my twin girls hands cast- they are 2 & I cannot recommend Maura enough!! She was so patient & was great with the girls. The end product is just fantastic!" Rose Cronin (September 2019)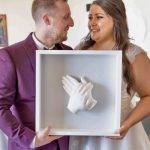 "We got this done for a wedding gift from my Mother in-law and we absolutely love it. Maura was so welcoming and first thing I did was play with her dog. I cant wait to look at the hand craft 20 years down the line and look back at the memories
🙂
5 stars for everything."
Thank you 
" Chris Mason (August 2019)
*******
"Maura did a casting of my little grand nieces hand and foot. I can not recommend this lady enough. Her professionalism and gentle nature with little Baby Molly , who was only 8 days old at the time. The finished product was absolutely amazing. A gorgeous little hand and foot cast in a frame along with a baby picture. Such a treasured keepsake for anyone to receive. Check out Maura's amazing work, top marks for a job well done ❤️😍" Susan Cowhig (May 2019)
*******
"I recently contacted Maura as I had decided to get my mam and my hand cast. After a few delays on my behalf I finally took mam on the 24th Feb to meet Maura and have the cast done . Maura was more than nice to us both and made us feel totally welcome in her home . The whole procedure only took about ten minutes and was ready for collection three weeks later . I am thrilled with the result  . It is a wonderful idea as a present and as I said it us a keepsake forever. I would highly recommend Maura and the wonderful work she does"  Sandra O'Donovan (April 2018)
*******
"From the moment I contacted West Cork Casting Studio, I was met with nothing but happy vibes. Maura is an amazing artist and is excellent at what she does. I recently brought my parents to have a cast made of their hands for their Golden Wedding Anniversary, which takes place on February 24th. Maura welcomed us into her home and put my parents and myself at ease, explained what the process was and in turn produced a masterpiece which we will have forever more. Forget the jumpers, wine, chocolates and other gifts you may consider giving as a present. This is a piece which we will have as a representation of our wonderful parents for eternity. I will post a photo soon as I don't want to spoil the surprise, but waste no time and book this place and you will have no regrets. Thank you Maura xxx"  Linda O'Halloran (Feb 2018)
*******
"Hi Maura
I saw the competition you ran in January and all the beautiful memories that people wanted to create. I just wanted to say thank you again for doing the amazing handcast of my lovely grandad and daughter. I am so glad that we took the time to have it done. Now that he is no longer with us I can't express how lovely it is to still be able to hold his hand. Thank you again for your fabulous work and talent. Sharon xx"  Sharon Birmingham (February 2018)
*******
"Maura did such an amazing job on casting my mam's and myself hand. I went home for 2 weeks and she drove all the way from west cork to the city to do this for us, she then drove up the next week and had it ready for me going back to Florida. I absolutely love it and can touch my mams hand any time now even if im over 4,000 miles away, it brings me such comfort. Thanks again Maura i highly recommend you 
"   Avril Welch Torres
*******
"Amazing work on the hands she done for my nan and my daughter I'll defo be going back again to get another one done of my own little family one xxx you get a very nice welcome xxx"  Lisa O'Mahony
*******
"I must say Maura did a fantastic job on casting myself, husband and son hand , and then myself and husband . She was so friendly to deal with . I would highly recommend Maura to anyone thinking of doing this"  Denise Cody
*******
"We had a fabulous experience today. What a brillant idea . Can't wait to collect it. Maura was so welcoming and was so helpful explaining the process to my son."  Paula Fitzgerald
*******
"Excellent, I absolutely love our cast. Maura was fabulous to deal with, she even went out of her way to get the exact colour we wanted"  Florence Keary
*******
"Fabulous, very helpful and made it very easy for us and small children to feel comfortable. A treasured thing to have" Lyndsey Markl O'Sullivan