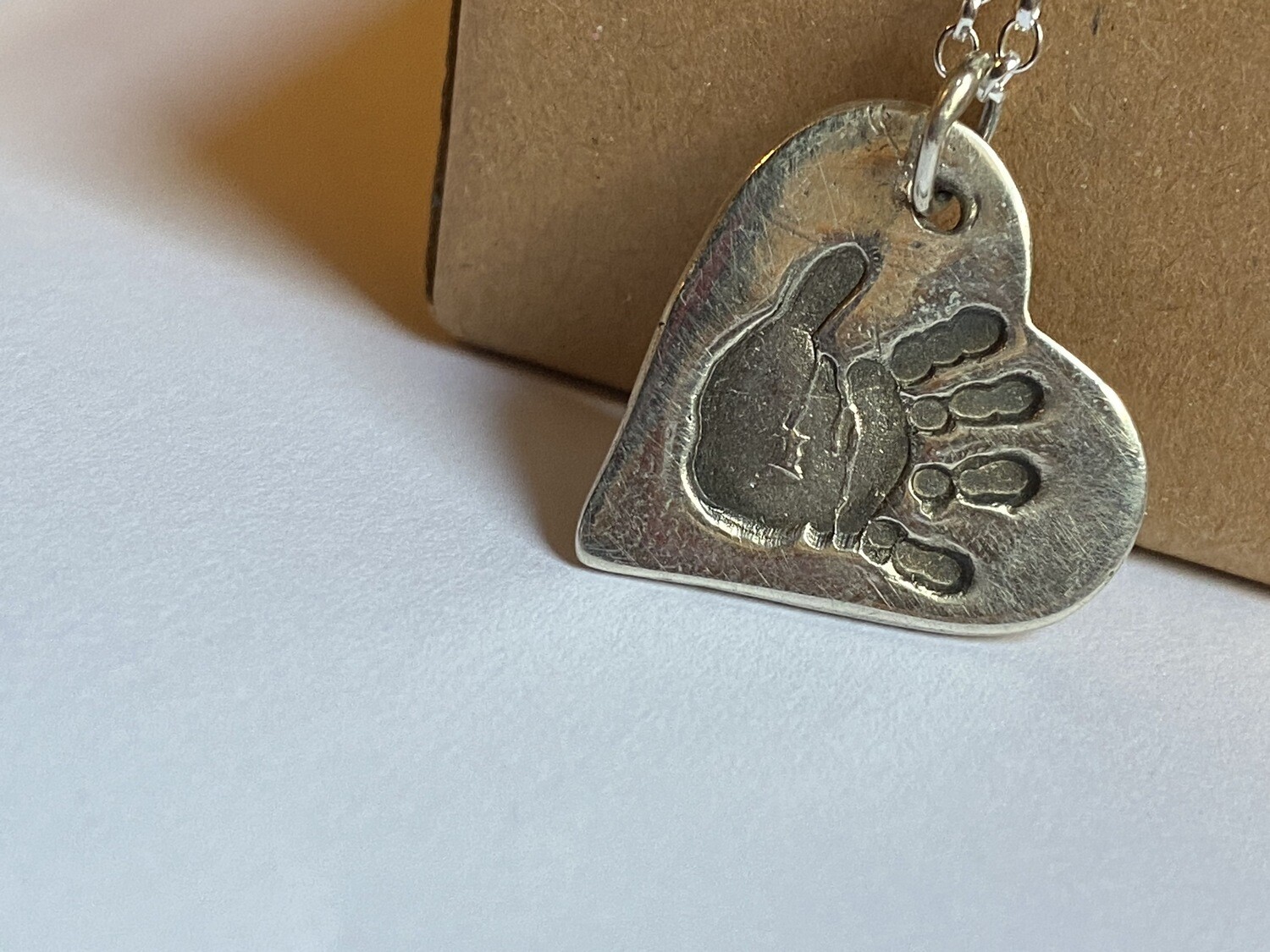 Handprint/Footprint Necklace 2.5-3cm
SKU 00009
Product Details
Those little fingers and toes! A very sweet way to keep your little ones close. Capturing the shape and some detail of those little hands and feet and creating beautiful bespoke jewellery. Ink free wipes are easy to use and best of all.... not mess! I will send you a small kit with one wipe and one A4 sheet of developing paper. Wipe the hand and/or foot with the wipe and press firmly to the paper, lift and the print will start to develop. Once developed take a close, sharp photo of the print and send it to me (Maura) at westcorkcasting@gmail.com

Often when a baby or young person dies in hospital the staff will make ink handprints as a keepsake for the family. If you have prints at home already I can use these to create a beautiful, tactile memorial necklace to help capture that intangible presence of a loved one lost. A tiny amount of cremated remains can also be added to the silver to create unique cremation jewellery. Please contact me (Maura) at westcorkcasting@gmail.com to discuss your special memorial piece. 10% of the profit from each memorial will be donated to Féileacáin.
"When the first piece arrived I was so excited to see how it had turned out but I wasn't prepared for the unstoppable tears of joy that streamed down my cheeks. Being able to hold their fingerprint when you can no longer see their face,for me brings them closer to me and helps calm me in times of stress or anxiety" Kate, December 2020
All finished pieces are send by registered post.
Terms and Conditions
Refunds:
As each item is handmade and personalised to each customer therefore I cannot offer a refund. If a piece is defective in some way please contact me directly. Your piece will not have a prefect factory finish but rather the perfect imperfection of a genuinely handmade piece. If you are looking for precision and perfection this is not then place for you!
Cancellations:
You can cancel your order and receive a refund (minus any costs incurred by West Cork Casting Studio) up to the point where I start to work on your piece. This is usually within a couple of days of receiving the impression back. Once work has begun on a piece refunds cannot be issued.
Shipping Policy:
Once I have a copy of your prints your piece will be created and sent back to you within 1-2 weeks. During busy period this may be longer. If you have a date deadline please contact me at info@westcorkcastingstudio.ie and I'll try my best to accommodate your request.
I have no control over how long a piece or indeed the moulding materials take to be delivered. At the moment there are delays in national and international deliveries, please take this into account when ordering. I am not responsible for lost or stolen packages, if you wish for your piece to be sent by registered post contact me and let me know, you will pay for the additional cost. Any customs charges, taxes or duty due on delivery are the responsibility of the customer.
Maura~
Save this product for later