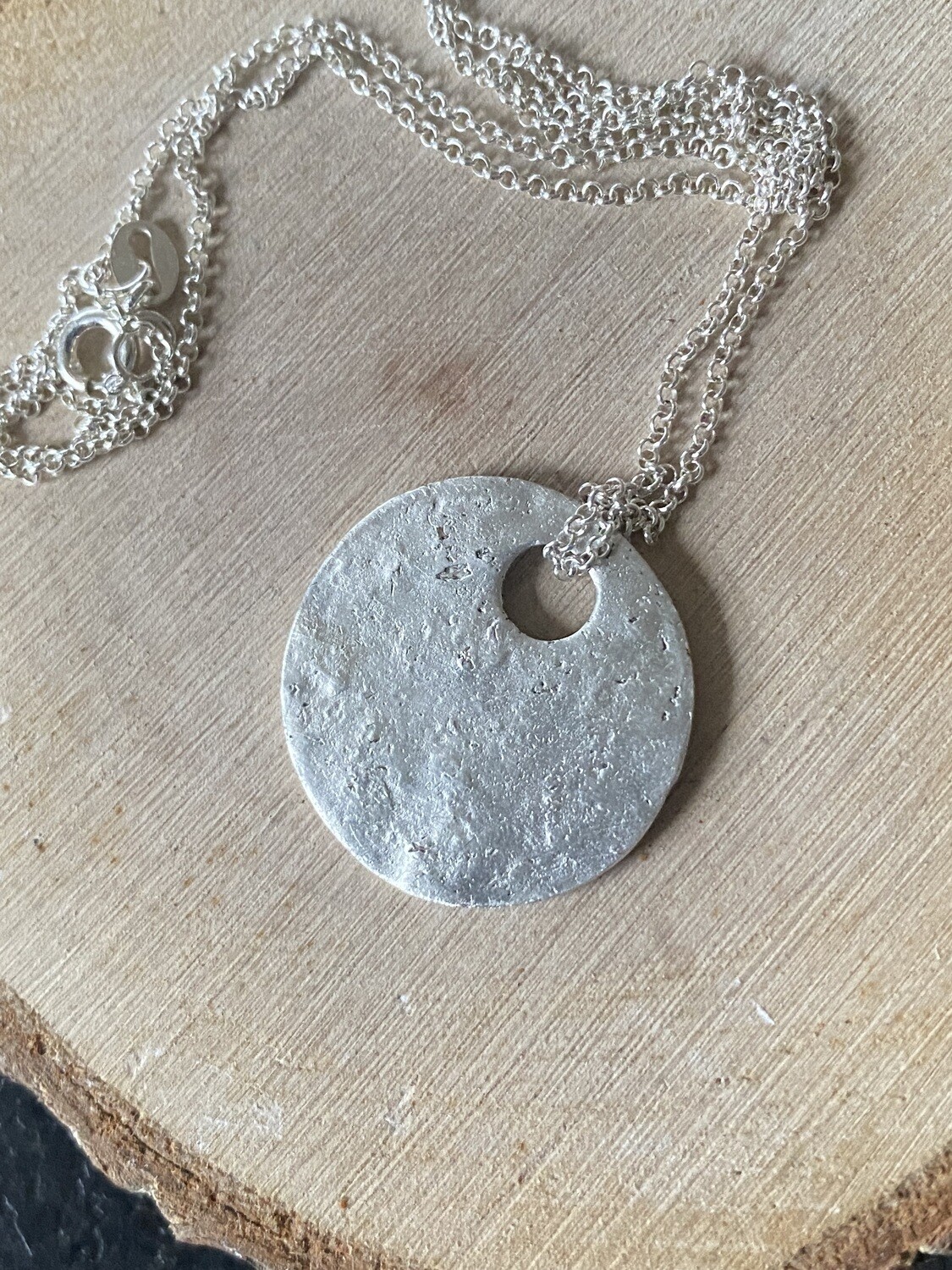 Ashes Memorial Pendant
SKU 00015
Product Details
"When my Dad passed unexpectedly I wasn't at all ready to say goodbye and wanted something to keep him with me a little longer. I approached Maura to see if she could design something specific to my needs. What she created is a bespoke and tactile reminder of my father and a way to keep him close. Maura's kind nature made the whole process easy, she was sensitive and respectful and I am so thankful to her for creating and designing this very special piece" Jessie, Feb 2022
Here at West Cork Casting Studio I have developed a process where a tiny amount of cremated ashes can be incorporated directly in to silver, creating a very solid but tactile keepsake that is a direct link to your loved one. The rough texture on the silver is the actual ashes visible in the silver. Using the feather, cone or leaf mould disguises the texture somewhat but embedded within is still a little physical connection to your loved one, this can help with healing after loss.
The process:
You send a tiny amount of cremated ashes to me (a quarter of a teaspoon is more than enough). Once they arrive I mark them carefully and store them safely until I am about to begin work on your piece. I'll firstly have a little chat with the person who has passed away and let them know what I am about to do and for whom. A very small amount of ashes are used in the process and any I haven't used will be returned to you with the finished piece.
The process is also suitable for pet remains.
Terms and Conditions
Refunds:
As each item is handmade and personalised to each customer therefore I cannot offer a refund. If a piece is defective in some way please contact me directly. Your piece will not have a prefect factory finish but rather the perfect imperfection of a genuinely handmade piece. If you are looking for precision and perfection this is not then place for you!
Cancellations:
You can cancel your order and receive a refund (minus any costs incurred by West Cork Casting Studio) up to the point where I start to work on your piece. This is usually within a couple of days of receiving the impression back. Once work has begun on a piece refunds cannot be issued.
Shipping Policy:
Once the ashes are received your piece will be created and sent back to you within 1-2 weeks. During busy period this may be longer. If you have a date deadline please contact me at info@westcorkcastingstudio.ie and I'll try my best to accommodate your request.
I have no control over how long a piece or indeed the moulding materials take to be delivered. At Christmas time there are delays in national and international deliveries, please take this into account when ordering. I am not responsible for lost or stolen packages, if you wish for your piece to be sent by registered post contact me and let me know, you will pay for the additional cost. Any customs charges, taxes or duty due on receipt of the jewellery is the responsibility of the customer.
~Maura
Save this product for later