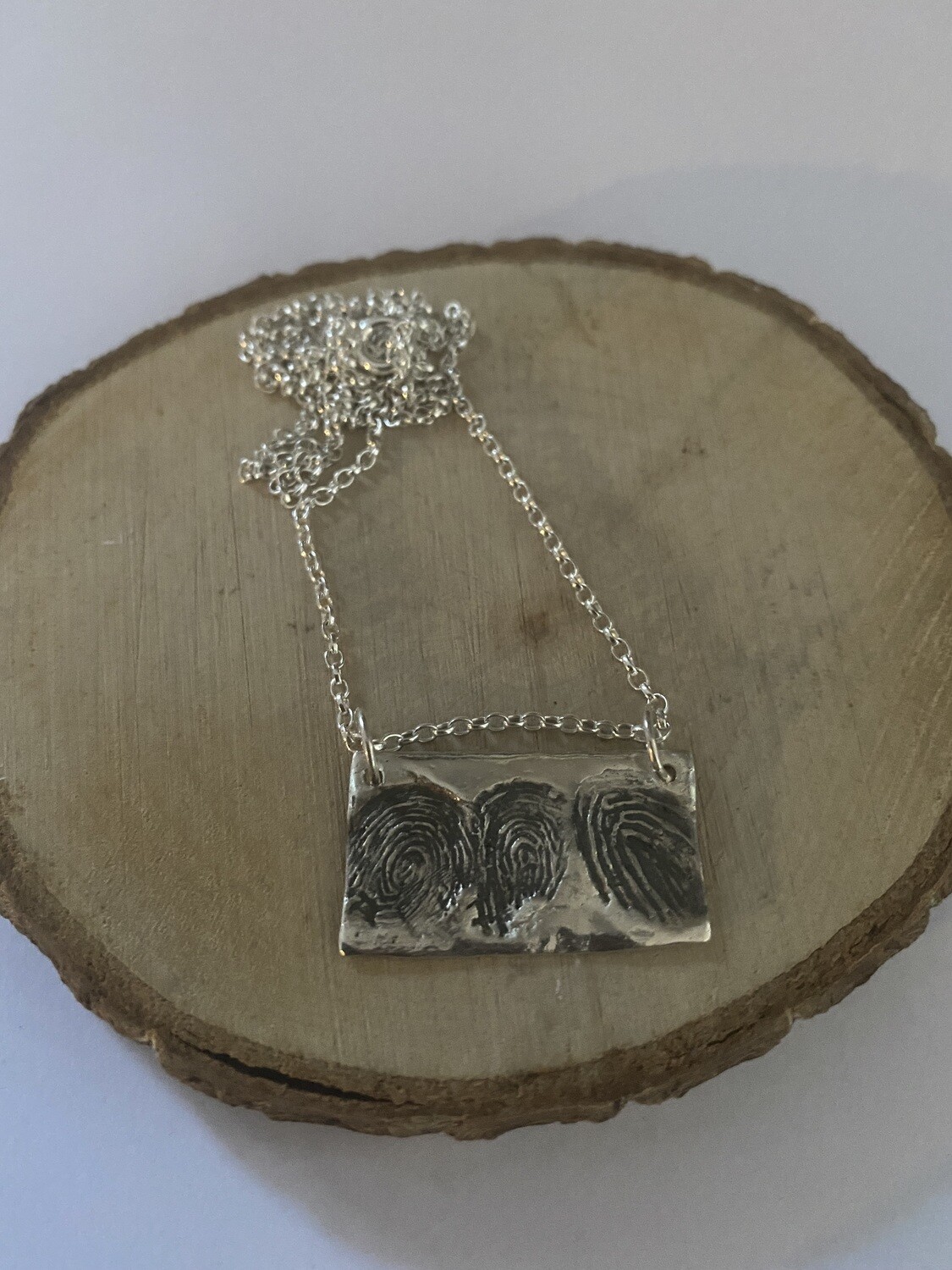 Bespoke Fingerprint Necklace (3-4 Prints)
SKU 00006
Product Details
Beautiful option for a family, gorgeous to have your children's prints together. Or maybe its parents and child, grandparent and grandchildren. Beautiful sterling silver pendant with three fingerprints. Keeping loved ones close always. Our fingerprints are unique to each of us and how precious to wear the unique mark or touch of a loved one.
This is a really nice size for a necklace pendant. Comes with 18"/20" sterling silver chain. Contact me to discuss a bespoke shape or style. Approximate size of the piece 3.5cm x1.5cm can fit up to four fingerprints
How it works:
It's quick and easy to take a fingerprint impression at home. All you need is a pencil, paper and some sellotape! Firstly draw a little box and completely fill it with pencil. Gently rub your finger over the pencil mark, making sure to get the centre part of the print. Then talking a piece of sellotape put the sticky side down over the finger you rubbed in the pencil and when you peel it back you will have a fingerprint impression. Place this onto a white piece of paper, take a close, sharp photo and sent t me, Maura, a westcorkcasting@gmail.com
Have a look at this little video I made to show you how to take a print at home.
Terms and Conditions
Refunds:
As each item is handmade and personalised to each customer therefore I cannot offer a refund. If a piece is defective in some way please contact me directly. Your piece will not have a prefect factory finish but rather the perfect imperfection of a genuinely handmade piece. If you are looking for precision and perfection this is not then place for you!
Cancellations:
You can cancel your order and receive a refund (minus any costs incurred by West Cork Casting Studio) up to the point where I start to work on your piece. This is usually within a couple of days of receiving the impression back. Once work has begun on a piece refunds cannot be issued.
Shipping Policy:
Once I have a copy of your prints your piece will be created and sent back to you within 1-2 weeks. During busy period this may be longer. If you have a date deadline please contact me at info@westcorkcastingstudio.ie and I'll try my best to accommodate your request.
I have no control over how long a piece or indeed the moulding materials take to be delivered. At the moment there are delays in national and international deliveries, please take this into account when ordering. I am not responsible for lost or stolen packages, if you wish for your piece to be sent by registered post contact me and let me know, you will pay for the additional cost. Any customs charges, taxes or duty due on delivery are the responsibility of the customer.
Maura~
Save this product for later