"Sometimes the smallest things take up the most room in your heart" Winnie the Pooh
A new baby is the most precious thing. So small and helpless, we do all we can to keep them safe. With Covid 19 going on it's totally understandable that you don't want to take your new baby out and about too often. So that's why I am coming to you.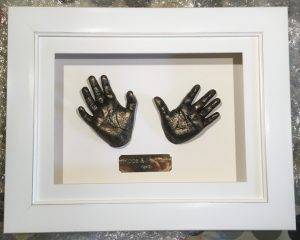 Soon I'll be announcing  an Autumn schedule for babycasting home visits. Join my email list to be kept up to date. 
A deposit of €50 will be taken at the time of booking, refundable with 48 hours notice. The balance of the cost will be due before or upon collection of the finished piece. I'll be returning to each area approximately one month after the casting day to deliver finished frames. Pricing details can be found on the Prices page.
Making Precious Memories with 3D Baby Casts